We partnered with NYC Service for their annual Mayoral Service Recognition Ceremony to help them honor community-based organizations, businesses, youth, and residents for their immeasurable commitment to service across New York City.
NYC Service, a division of the Mayor's Office, launched in April 2009 in response to President Barack Obama's national call for volunteerism and a goal of engaging 100 million Americans in service by 2020. NYC Service builds partnerships to deepen and expand civic engagement through volunteer and service programs, creating sustainable change for New York City's greatest needs. Uniting New Yorkers in service to advance lifelong civic engagement for a more equitable and inclusive city, NYC service believes that lifelong civic engagement is a right, privilege, and responsibility of every New York City resident. We were pulled in to create a suite of graphics and a video for the 2022 Mayoral Service Recognition Ceremony.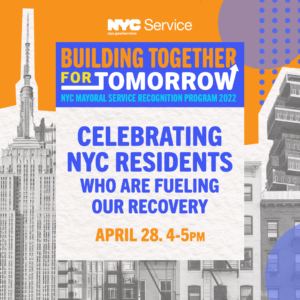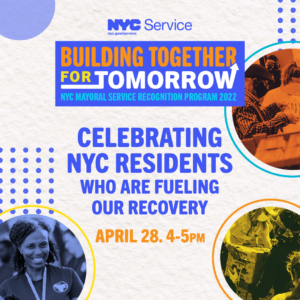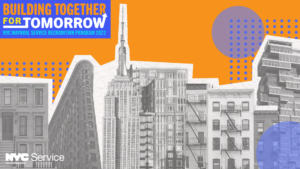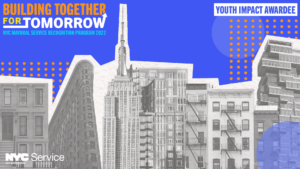 Our work with NYC Service began as a design project. We were tasked with creating social media and marketing assets that were unique, engaging and on-brand.
We constructed several flyers and Zoom backgrounds that bursted with color, integrating bold design elements seamlessly with prominent NYC buildings.
In addition to these design pieces, our team produced, designed and edited the four and a half minute video that debuted at their annual Mayoral Service Recognition Ceremony, which was accompanied by a 60 second trailer for the NYC Service team to use as a marketing asset for the event.
Themes of service, support, forward-thinking sustainable change and connection to one's community were highlighted authentically throughout the piece, as we geared our questions to these important topics.
With only two filming days and a two person crew, we captured 5 interviews and b-roll footage from 4 different locations, traveling from the Lower East Side to Brooklyn to the Bronx and edited the final piece in just one week.
We created a suite of custom lower thirds, geotags, and closing slides to accompany the final video.
Finally, we wove it all together to create an emotional, memorable piece for this year's event.
The video aired on April 28th, 2022 during the live Mayoral Service Recognition Ceremony.
Nearly 2,000 people attended the virtual event.
The work that NYC Service does, and all of the organizations and volunteers throughout the city continue to inspire us every day!
Learn more about NYC Service here.